Vacation in Franconian Switzerland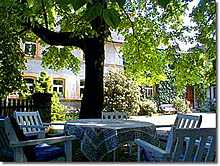 Whether you are interested in our vacation rentals or our distillery: on our website you will find all information regarding your vacation plans or our award-winning german liquour, the "schnapps". However, you definitely should get to know the "real life version" - while it might be possible to spend a vacation in cyberspace, we don't know about "schnapps-tasting" over the 'net ...
With these pages we hope to give you an anticipation of what you will get when you spend your vacation at Dahlmann-Schmidt's. Of course we would be very pleased to meet you personally.
Waltraud Dahlmann-Schmidt
---